Welcome to The First Tee of Greater Charlotte
What We Do
The First Tee of Charlotte will impact the lives of young people by providing educational programs that build character, instill life-enhancing values and promote healthy choices through the game of golf.
Learn more about our chapter
What's new at The First Tee of Greater Charlotte
#GivingTuesday
December 1, 2015 is an international day of giving. Even the smallest gifts can make the largest difference
Read More »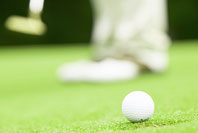 2016 Spring Schedule & Registration
Click here for more information about our Spring 2016 Programs & Registration
Read More »
2015 Participant Opportunities
Each year, The First Tee offers an extensive list of both local and national opportunities. Leadership Academies, Scholarships, etc. For a full list of opportunities and applications, please click here.
Read More »
To learn more about The First Tee of Charlotte, please take a moment to view the video below:
A Program that Works
Research Validates
In a past independent research study of The First Tee, 73% of young people at participating chapters reported high confidence in their ability to do well academically and 52% credited the program for their ability to appreciate diversity.
Read More »
Our Impact
The First Tee believes young people in our community are our future leaders. Our programs impact youth and expose them to core values like respect, integrity and perseverance.
Join Our Program »
How We Help
One-third of young people say they lack adult role models. The First Tee provides quality youth programs that include adult mentors and safe places.
About Us »